Summertime in Santa Cruz
Summer is here, finally! I'm so happy to be in back home in the Bay Area. Home is always a good idea, but even better when shared with the sweetest friends. Last weekend, I got to explore Santa Cruz with my creative soul sister Mariel, who showed me around Brooklyn earlier this year. I'm so happy she's in town for the summer, and secretly ecstatic that we pried her away from NYC ;). To celebrate her summer in the Bay, we squeezed an entire weekend's worth of activities into a single day (probably thanks to the Philz we picked up before our quick car ride, ha!).
First stop, foood (of course!). We had brunch at Bantam and coffee at Verve — which have got to be two of the most beautiful spaces in all of Santa Cruz. Bantam (pictured above) has the most delicious Saturday brunch! Can we talk about how stunning and light-filled this space is? Highlight of the meal was definitely the olive oil cake, paired with whipped cream and jam. My friend Ashley and I made olive oil cake back in San Diego, and I've been obsessed ever since! I love that it can go savory or sweet (though the latter is always preferred, heh!). Verve (pictured below) was equally stunning, with the sweetest details. I impulsively bought a t-shirt with their logo on it because the type was too stinkin' beautiful. Ugh, coffee x gorgeous typography? You got me, Verve.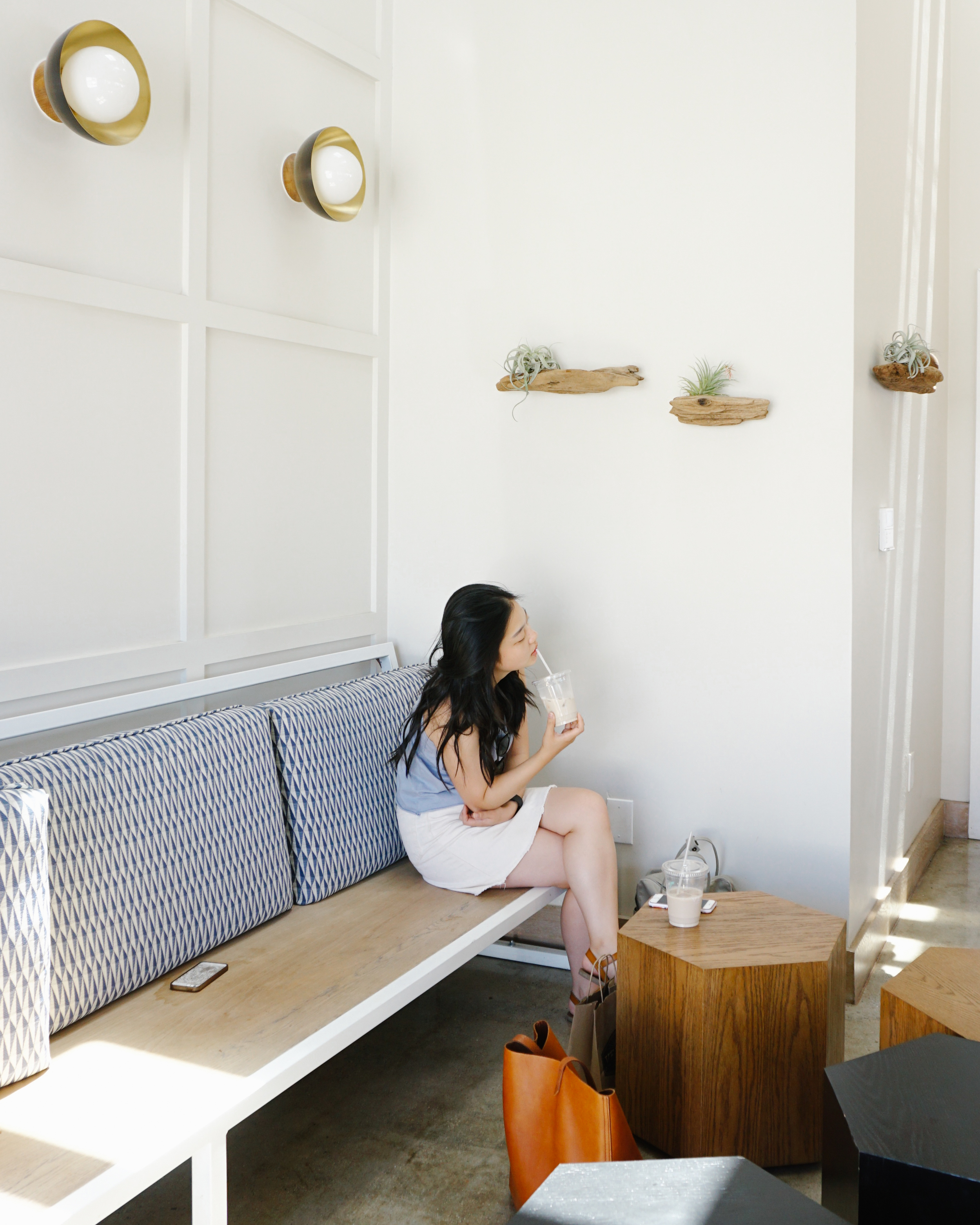 Afterwards, we headed over to Panther Beach. In high school, my friends and I used to go to Panther beach all the time. It was the cool place to hang out — beautifully pristine and always near empty. It felt like a private beach! Fast forward four-ish years, I was so sad to discover how popular its become (and with that, so much dirtier). Nonetheless, Mariel and I took our time taking in the insanely gorgeous views before we headed down to the beach to sunbathe!
After running from the waves at Panther Beach, we swung by Swanton Berry Farm, which may or may not be the cutest little place I've ever been! I love Swanton — Chris and I went on a double date here two summers ago and had the best time. Swanton's pick your own strawberry fields are so much fun, and the strawberries (now in their summertime prime!) are deliciously sweet and juicy. Inside the farm stand, you can weigh your strawberries (which were $4/lb) and purchase baked goods. Mariel and I shared a strawberry pie and strawberry shortcake, tasted the free strawberry jams and agreed right then and there we could die happy. The cherry (err... strawberry?) on top was that the farm uses an Honor Till, so visitors pay and make their own change by themselves. The sweetest!
Before we headed home, Mariel and I visited the charming boutique store Cameron Marks. It felt like a small shop I could find in the alleyways of Williamsburg (in NYC) or Shoreditch (in London); I was pleasantly surprised to find such an incredible selection of goods. From greeting cards to Swell bottles to handmade Japanese ceramics to the most gorgeous jewelry, everything was on point. Mariel and I splurged here (oops, sorry not sorry), but everything was too perfect to handle! We even got matching thin gold hammered rings (celebrating our friendship hehe). It was the perfect way to end our day.
'Til next time, Santa Cruz — thanks for gracing us with your beauty and charm!