Sleepless in Seattle
Seattle, last weekend, was so wonderful. So many things we ate! So many things we heart-eye'd over! And so much laughter — the kind that only comes from catching up with the best of friends.
Evelyn, Caleb, Sam and I flew out from all over California to meet up for a weekend in Seattle. This weekend was a long time coming — with attempts to get the four of us together in Seattle beginning two years (!) ago. And it finally happened! A miracle indeed, especially given all of our crazy calendars. We'll have to start planning our next trip now ;).
A few highlights from the most glorious weekend:
1. Chihuly Garden and Glass. The highlight of my entire trip. The work of glass sculptor Dale Chihuly is showcased at this beautiful museum adjacent to the Space Needle, and it is. seriously. stunning. I know I sound like a broken record saying things are so beautiful and stunning but this was mind-blowing. We went to Chihuly during the day to see the natural light pour into the glasshouse, and at night to see the glass work lit up. It's gorgeous in both settings and I wanted to stay in that glasshouse forever. A must do!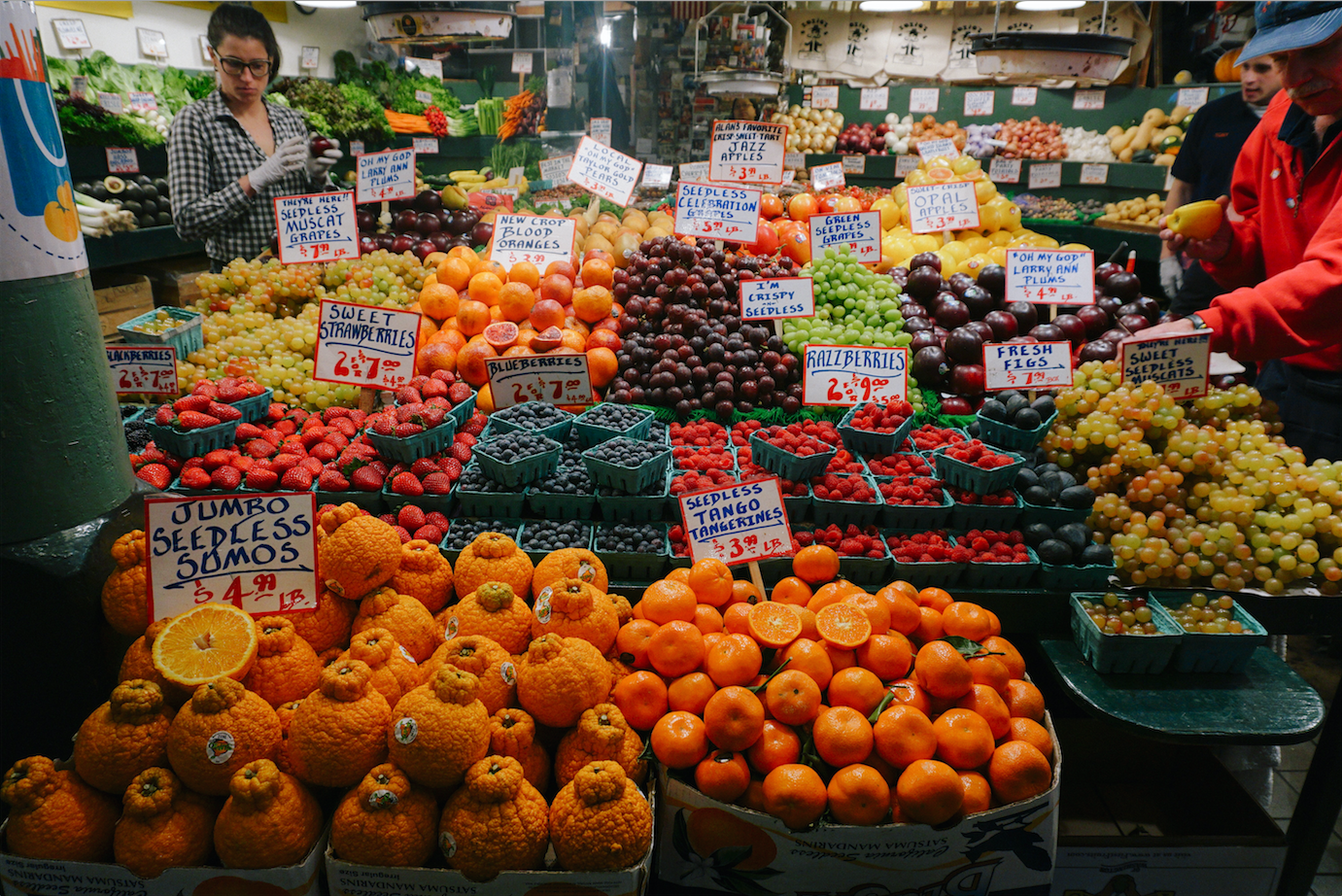 2. Pike Place Market. There's a reason why this famed market is #1 on anyone's Seattle list. Who doesn't like food, coffee, flowers, and fish being chucked at you (ha!)? At Pike Place, we loved Piroshky Piroshky, a Russian pastry shop — especially their classic Beef + Onion pastry. I don't say love as an understatement — we went back here on our last day to get some just to take home! Other highlights were Ellenos' life changing Marionberry Pie greek yogurt, lunch at Pike Place Chowder and Sam's clutch suggestion of The Pink Door for a rustic Italian dinner. But, my favorite stop would have to be the stunning Storyville Coffee. Gotta give them a shout out for watching me unabashedly take pictures of my empty coffee cup (I thought it looked pretty in the light, alright), and then offering to give me a new coffee (for free!) to take pictures of. The sweetest, right?!
3. Seattle Public Library. Seattle Public Library's architecture was next level. We went here in the pouring rain, and the soft light + raindrops falling made for such a perfect study space. If I went to school in Seattle, I would definitely spend all my days studying in here (or, actually probably not studying and just staring at the ceiling haha) — it was beautiful.
4. Snoqualmie Falls. We knew we wanted to see a bit of what the Pacific Northwest is famous for — good ol' mother nature! So we made the trek out to Snoqualmie Falls, about 30-40 minutes from downtown Seattle. Protip: Take the short (and incredibly lush + green) hike down to the river to get a closer glimpse of the mighty falls. I thought I was back in Iceland for a hot second!
Honorable mentions: Starbucks Reserve (a must do if you love coffee), Un Bien (the best Caribbean sandwich, ever), The Pie Bar + Molly Moon's Ice Cream.
Shoutout to Sam for helping me cut the music for this mini-recap video:
And a huge, huge thank you to Ev's friend (and #1 promoter) Michelle and her lovely apartment mates for hosting us all. We love you!
'Til next time! #COESinSeattle out.