Reflecting on my White House Initiative Internship
This belated post was months in the making (read: lots of "I should blog about DC" thoughts swirling around in my head), but better now than never! Sometimes, I still have to pinch myself that all this really happened.
This past spring, I had the honor of interning at the White House Initiative on Asian Americans and Pacific Islanders in Washington, DC. Typing that sentence out is still so surreal. Interning at the Initiative was admittedly one of the hardest things I've ever done - but also one of the most rewarding. Adjusting to a new city (with seasons? gasp!), working for the federal government, the grueling long hours, my first day I-think-I'll-walk-to-work-in-heels mishap… it was all a bit overwhelming at first. But as the days went on, I quickly learned to always bring an umbrella, pack lots of snacks, walk to work in my Nike's (and throw the heels in my purse), and, was constantly reminded of the lasting impact that my internship had.
As the Communications Intern at the Initiative, my role was to assist the Communications Director with all communications from the Initiative to the Asian American and Pacific Islander (AAPI) community and beyond. Part of the Initiative's job is to be the liaison between the AAPI community and the Obama Administration, connecting them to federal resources and opportunities. For me, this meant doing everything from managing the Initiative's social media platforms to planning/executing a U.S. Department of Education briefing, from sending out daily media clips to working White House events. It was a whirlwind juggling what seemed like a million tasks at once. Though bleary-eyed and sleep deprived, I'd never worked with a group of people so passionate about public service and the AAPI community. I met countless real life Leslie Knopes - people so in love with public service that it couldn't help but rub off on you. :)
I had so many memorable experiences as an intern in Washington DC, but here are a few I found myself rambling about for weeks on end:
Japan State Arrival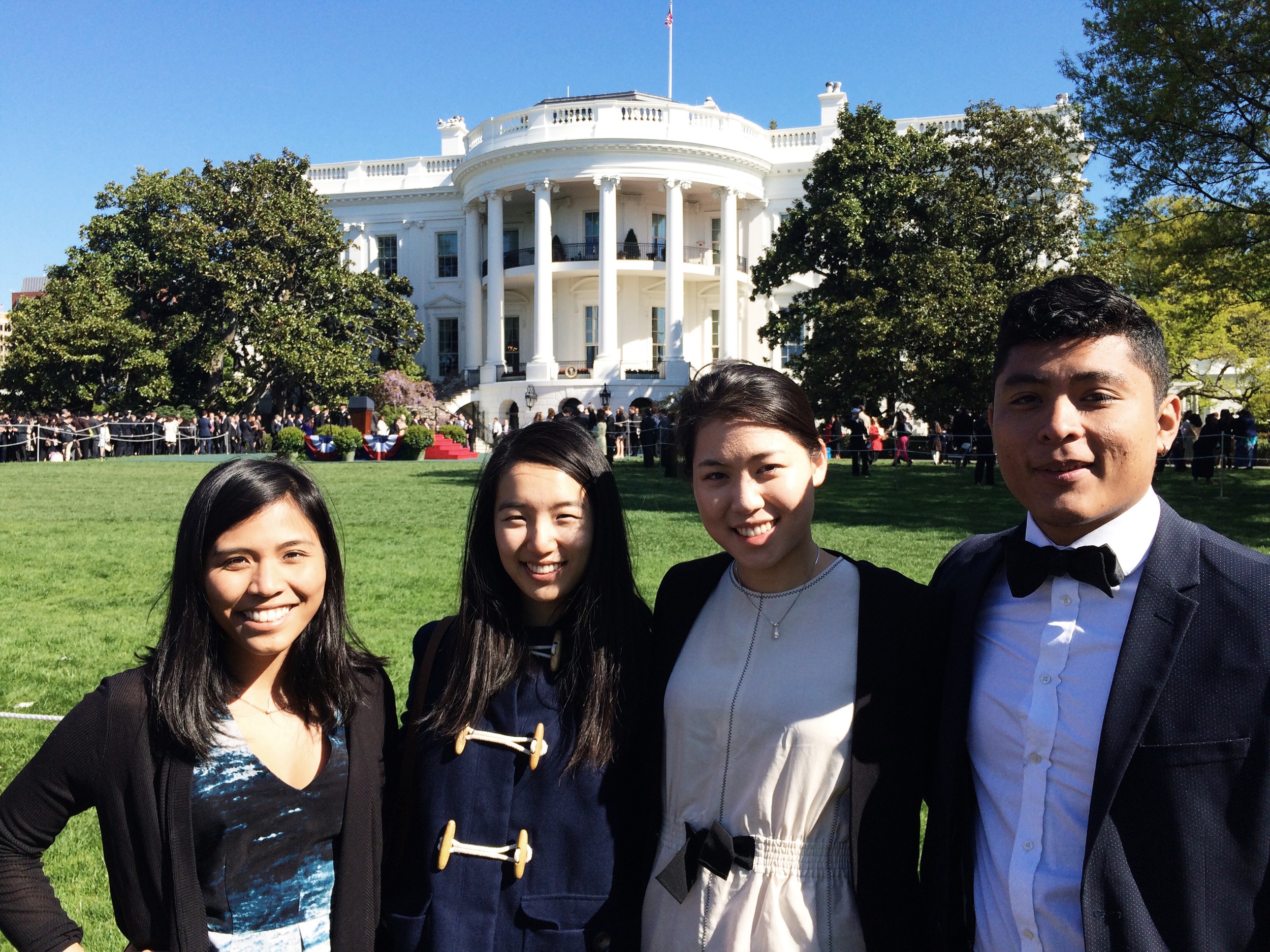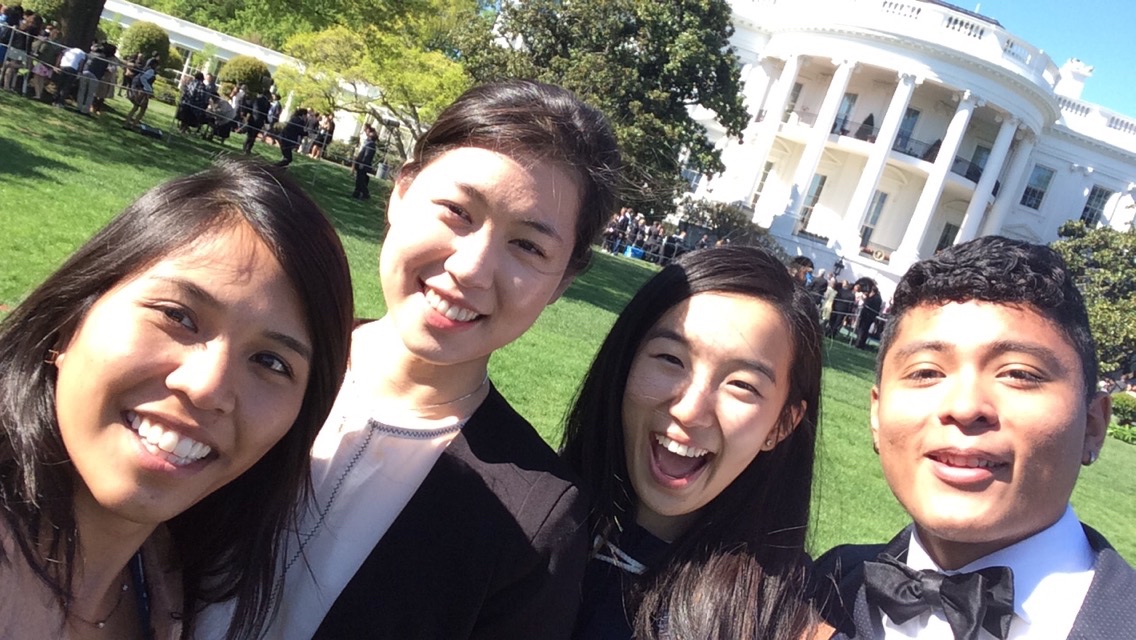 Getting to visit the White House for Prime Minister Shinzo Abe of Japan's State Arrival is probably something I'll be yabbering about for the rest of my life. Walking onto the South Lawn with what seemed like hundreds of other people was overwhelming to say the least. There was an entire bleacher full of the media: photographers, cameramen, videographers, publicists, reporters and more. It was so awesome to see President Obama in the flesh and hear him give a speech (especially one in which he references emojis, karate and anime). FLOTUS (First Lady of the United States) looked fabulous as always, and Vice President Biden and Secretary of State Kerry were all there to greet Prime Minister Abe and Mrs. Abe. It was very ceremonial and I felt very lucky to be amongst the few to view it in person. During the ceremony, POTUS (President of the United States) and Prime Minister Abe walked around the lawn and shook people's hands. As I was exiting, I heard a girl tell her friends a story about how she leaped on top of people and stuck her hand up to the front and got to shake hands with the President!
The Pentagon
This was the only picture that I was allowed to take - they're naturally very strict about security and we were escorted to and from our event. The Pentagon was incredible! There were banks, jewelry stores, food courts, gyms and more inside the facility - it was pretty wild to see. The courtyard looked beautiful and the halls of the Pentagon were filled with museum-like exhibits on military history.
Working in the White House and the Eisenhower Executive Building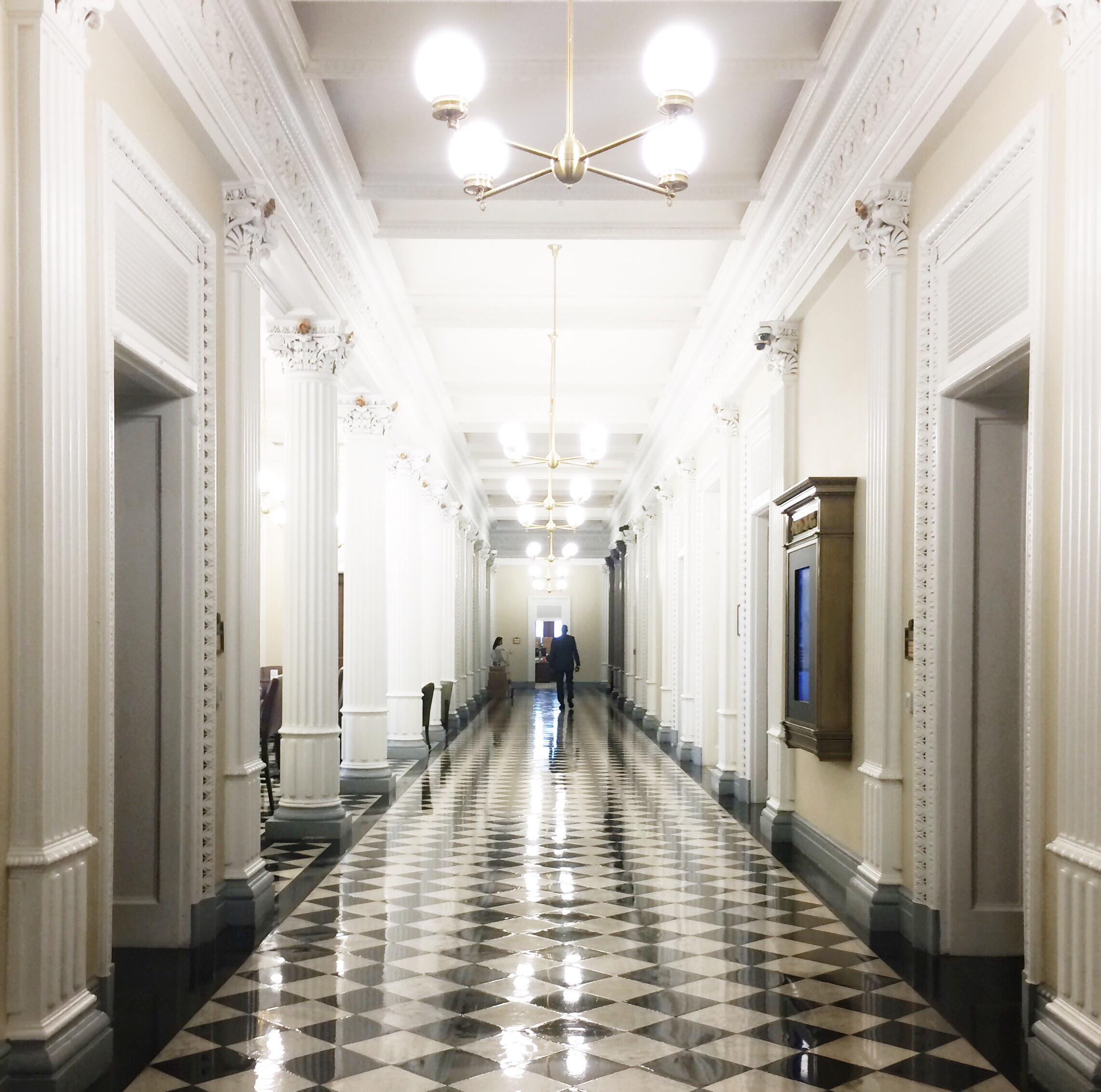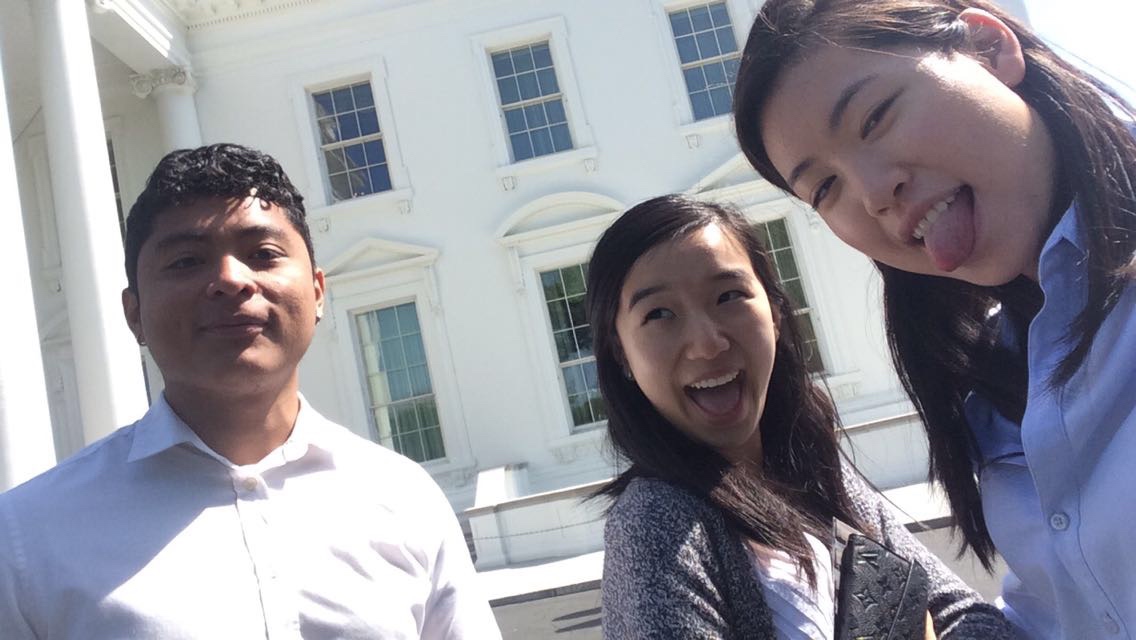 Working in the White House and in the Eisenhower Executive Office Building (EEOB) was surreal. EEOB is the hands down one of the most beautiful buildings in all of DC. EEOB is located inside the White House complex; it's the building to the right of the White House's main mansion, next to the West Wing. Most of the White House's offices are housed in EEOB. EEOB is absolutely beautiful, with gorgeous marble floors and long winding staircases. Most of the White House events the Initiative hosted and staffed were held inside EEOB and we became quite familiar with it's sprawling layout! I wanted to include a couple photographs of the iconic White House mansion (me and a couple other interns loved exploring the East Wing). We were also fortunate enough to catch a glimpse of the President leaving the White House on Marine One.
The White House Summit on AAPIs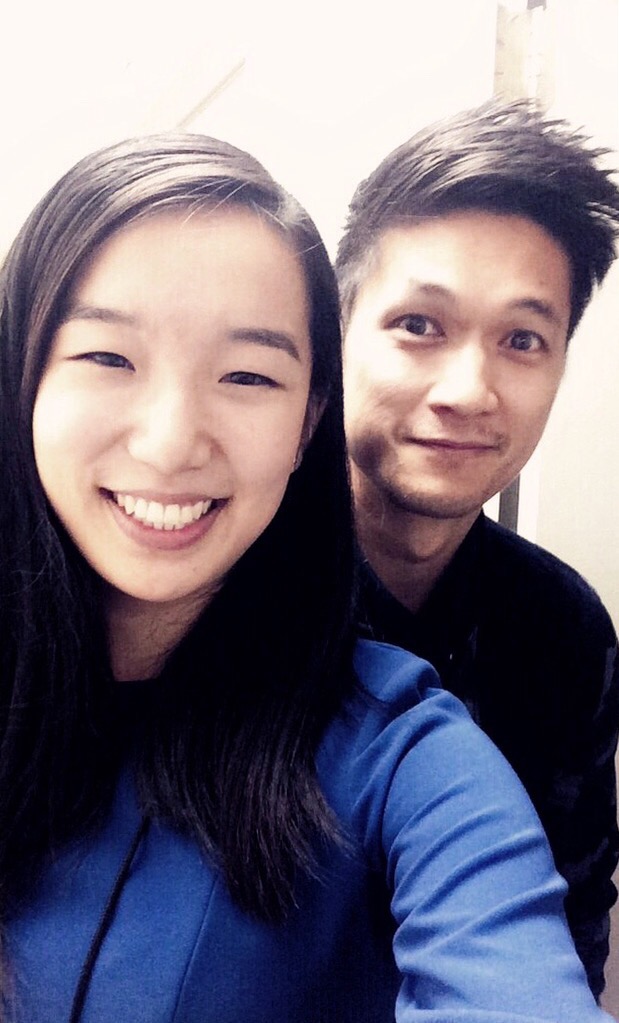 A huge portion of my internship was dedicated to planning and executing The White House Summit on AAPIs. The White House Summit on AAPIs was a historic gathering with nearly 2000 attendees, a video welcome from President Obama, 6 Cabinet Secretaries, senior level Administration officials, celebrities and more! Shameless plug to read the blog recap here. From pulling daily registration analytics to helping manage logistical operations, I supported the communications and logistical side of the event. I also live-tweeted the entire day (#AAPISummit was trending on Twitter in DC) and vaguely remember freaking out over Harry Shum Jr. :) The event was simply historic, hugely successful and incredibly impactful for the AAPI community. The entire WHIAAPI team worked so hard to put this event on and I feel so lucky to have been a part of something of this magnitude.
Lobbying on Capitol Hill
Another highlight of my time in DC was participating in UC Day. On UC Day, delegates from across the University of California come together to lobby for the UC on Capitol Hill. This year, the theme was federal financial student aid. We were grouped together with delegates from our home universities and went to 5 California Members of Congress's offices to discuss where they stood on federal financial aid and lobbied for their support of federal financial aid for the University of California. I loved getting a glimpse of what it would be like to be a "hilltern" (an intern on Capitol Hill). It was so cool to see the Members' offices, talk to their staff members and meet delegates from all the campuses. The cherry on top was when we visited Congressman Juan Vargas' office (his district includes parts of San Diego), he offered to take UC San Diego students on a midnight tour of Capitol Hill. We couldn't say yes fast enough! The night Congressman Vargas took us on our midnight tour happened to be the night that Senator Rand Paul was filibustering. We not only got a private midnight capitol tour, but we got to walk on the Senate floor (right after Senator Paul's filibuster) and House floor (where the State of the Union is held). The midnight capitol tour was something I'll always remember. Thank you, Congressman Vargas!
A Special Thank You!
Secretary of Education Arne Duncan was kind enough to meet with the Department of Education and Initiative interns before the close of our internships. We met Secretary Duncan (some of you might know him as the MVP for the NBA Celebrity Game) at an intimate brown bag session in the Secretary's Conference Room. There were only about 10-12 interns present in the room and a majority of our time was spent on an insightful Q&A session. He answered our questions and spoke very candidly about what issues he was unsure about, why he got into education and what it's been like to be one of few Cabinet Secretaries who has been with the Obama Administration since 2009. He was so down to earth, so intelligent and truly understood the challenges that he faced as the Secretary of Education. Plus, we each got a picture and handwritten note from Secretary Duncan, which made my day when it came in the mail.
Overall, my Washington DC experience was filled to the brim with incredible experience after incredible experience. I know that the lessons that I've learned from the Initiative and in DC will follow me throughout my life. Thank you for believing in me, WHIAAPI!
Note: I was able to intern at the White House Initiative through participating in the University of California's UCDC Program. I received academic credit for my internship and took a research seminar class in addition to my internship. Please reach out to me if you have any questions about the UCDC Program - I am happy to give my insights!